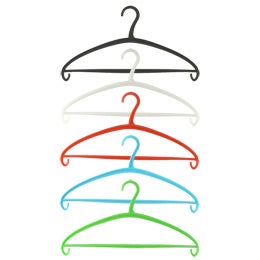 I'm learning an important lesson (which has now been added to the Clutter-Free Thinking page): Change is a process. I just made pass number four at purging my closet. The biggest purge was still
the first one
, but there were a few useless hangers-on (Ewwwww, a pun. Gross.) remaining. I needed to come back with a clear head and do it again.
The pieces of clothing that tripped me up were mostly things to which I had formed weird sentimental attachments, like a tan sweater that I would throw on over whatever I was wearing most days in film school. (Avid labs be frigid, mateys.) But now it goes unworn for a variety of reasons. It doesn't go with a lot of my clothes, and the cut looks weird on me now. (My waist migrated downward, probably as the result of an unrelated pact with Satan. More on that another day, but for now, consider me confused and grateful.) So it hurt, but on my second pass at purging my closet, the tan sweater was pulled out of commission. There are other people in the world who need a sweater, and one of them will wear it.
Being brave here. Trying to not go on a rescue mission to retrieve the sweater.
This is also a good example of why I have to do most of my purging when my husband isn't around. After the second purge, he convinced me to keep the sweater. We met in film school (but didn't get together until afterward, which is another story for another day--a bizarre and lurid story, full of complications and intrigue), and when he pictures 18 to 22 year old me, I'm wearing the sweater. So I put it back in the closet, and it survived the third purge because of my enormous guilt over purging it in the first place.
It did not survive the fourth purge. Seriously, I am not going to wear the damn thing ever again. In addition to the new location of my Satan-waist, my boobs are four cup sizes bigger than they were when I bought that sweater, which, now that I mention it, is a little suspicious, too... Here's the thing. I'm me. I'm not more me with the sweater. I'm not college-me with the sweater. There are pictures of college-me wearing the sweater and that's enough. I have me. I don't need the sweater. Someone else will enjoy the sweater and look damn hot in it, and that is final.
I initially felt like doing multiple purges was kind of a failure on my part, like I wasn't able to get it right the first couple of times, but now I see it as an indicator that I'm proceeding with caution, doing this in a way that makes the absolute most sense to me. It seems like the kind of change that's more likely to stick.
I could never have anticipated the magnitude of the results. After I completed the first closet purge, I felt relieved. After completing four closet purges, my life has been significantly impacted. I used to walk into my closet and think I had nothing to wear and that I hated a lot of my clothes. Now when I walk into my closet, I love everything I see, and picking out an outfit for the day takes seconds. It seems like an impossible fairy tale. I never would have guessed that I had enough pieces I liked, because I was so used to flipping past all of the clothes that I couldn't or wouldn't wear to get to something good. But lo and behold, the pieces of an entire me-approved wardrobe were there, hiding behind and under and between.
So get rid of your stuff. And get rid of your stuff again. And get rid of your stuff again. I did it, and I am endlessly happy. Hell-pact notwithstanding.